BESPOKE PRINTMAKING WORKSHOPS
MONOTYPE • COLLAGRAPH • CARBORUNDUM • GELLIPLATE PLATE • LINOCUT • DRYPOINT • ARTIST BOOKS
I have over 20 years experience delivering printmaking workshops geared to the specific interests and abilities of groups ranging from complete novices to experienced printmakers. Whoever I am teaching, the emphasis is on learning something new and exciting and having fun doing it!
Although my areas of particular expertise are collagraph and monotype, I am able to offer high quality teaching in the printmaking media shown above.
"I thoroughly enjoyed learning a new skill and printing technique - gelliplate plate printing on fabric - and I can embellish with stitch later."
PRINT & STITCH WORKSHOP
WHAT TYPES OF GROUPS?
I have delivered bespoke workshops to a wide range of groups including:
Friends or family looking for a fun, creative group activity

Art teachers looking for in service training to take back into the classroom

Art and textile groups

Artists or printmakers wishing to try something new or learn new techniques to extend their own practice
Specific organisations include:
The Northumberland National Park

East Durham Arts Network

Hexham Embroiderers Guild

Stitch in Nine, Co. Durham

Cancer Support, Freeman Hospital, Newcastle

MacMillan Cancer Support, North Tyneside Hospital
Adapt (NE)

Haydon Bridge High School

Emmanuel College, Gateshead

Lowgate First School

Heddon On The Wall St Andrews C Of E First School
PRINTMAKING AS THERAPY
I have frequently worked with individuals recovering from mental health difficulties. For 3 years I delivered printmaking workshops at North Tyneside Art Studio - a facility specifically geared towards offering creative expression to people coping with a wide variety of mental health problems to aid their recovery. I have also worked with other mental health organizations such as St. George's Hospital in Morpeth, and a suicide support group in Co. Durham.
I loved this workshop!
I learnt new skills with excellent demonstrations and background information.
EAST DURHAM ARTISTS NETWORK WORKSHOP
HOW LONG AND WHERE?
Your workshop could be as short as half a day or for several days in-depth tuition. I can deliver your workshop from my well-equipped Hexham studio for groups up to six people. If coming to my workshop presents difficulties, we can explore the possibility of delivering a workshop at your location.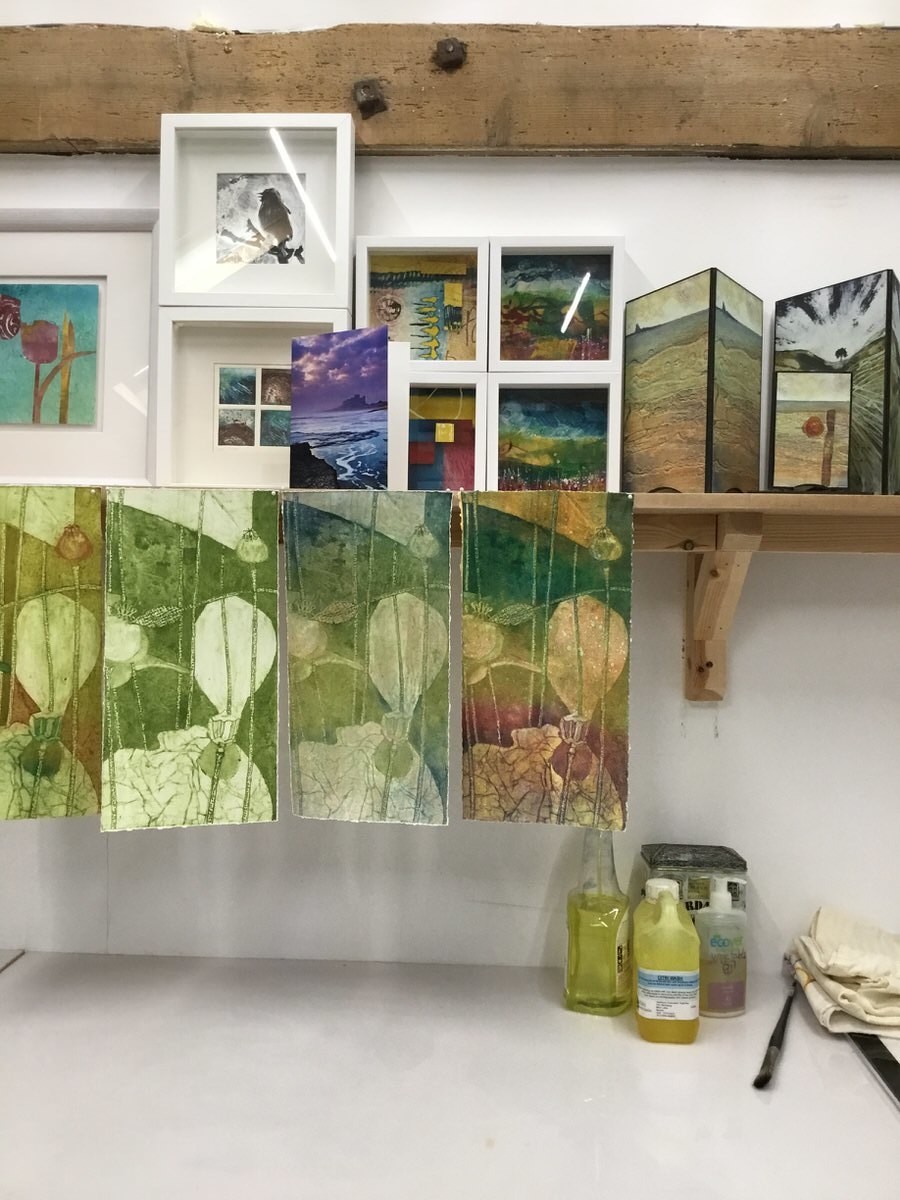 Costs will vary depending on your group size and the print media. The following costs are for guidance:
£140 per half day
£240 per full day
Materials are extra and will depend on the print media - from £10 per person. Off-site workshops will also incur a travel cost. A light lunch and refreshments can be built into the workshop or you can bring your own food.